STONTEX COLOUR INTENSIFIER
From: €66.00
Overview
Sealer and colour enhancer – all in one product.  Suitable for black / dark coloured natural stone.
Specially formulated penetrating treatment for black limestone, black granite and other dark coloured natural stone.
Matt natural look finish doesn't change the slip resistance of the stone and gives a non shiny natural wet look finish.
Long lasting performance and easy to apply.
One coat treatment but a second coat may be necessary for very porous surfaces.
Where to Use
Can be used both internally and externally but only on black / dark natural stone.

Free shipping on all orders over €75
Before & After Images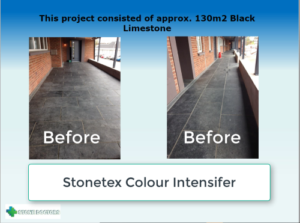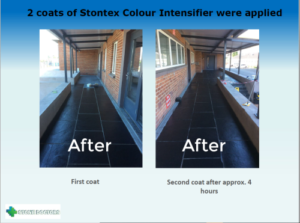 Additional information
Size
Application and Time

Apply using a standard short ply paint roller. One generous coat, allow to soak into the stone for min 20mins and then buff excess off the surface using an absorbent towel / cloth.

Equipment

Paint roller with tray. Short ply roller sleeve to apply.
Absorbent towel / cloth to buff any excess off the surface after min 20min dwell time.

Coverage Rate

On porous stone for example, limestone – 7sqm per litre. On dense stone for example, granite – 10sqm per litre.

Cautions

Treat like a paint. Do not allow this to spill on any other stone except the black stone you are treating. Mask up area if necessary.

MSDS Data Sheets

https://mail.google.com/mail/u/0?ui=2&ik=00d44e945d&attid=0.1&permmsgid=msg-f:1729907246733029376&th=1801dd79b7e57000&view=att&disp=inline
Why is it only suitable for black stone? The liquid is clear in the bottle however there is a special ingredient in this treatment that helps bring the natural colour back in worn faded stone. Other than a black stone if you apply this to a lighter coloured stone the treatment will not last and could give a patchy appearance as these light coloured stones are naturally light in colour.
I applied one coat on my black stone and it looks patchy? This just means that this particular stone is very porous and application of a second coat will uniform the colour.
After treatment what should I use for ongoing cleaning & maintenance? The ideal cleaner would be our Stontex Green to Clean.  Just spray onto the dry soiled stone and walk away.  No need for scrubbing or power washing.
If I have more questions, is there free help available? Yes, just fill in the link below and one of our Stone Doctors will get back to you as soon as possible: Ask the Doctor