STONTEX TARMAC RESTORER
From: €59.00
Overview
A commercial grade high performance colour enhancing and protective treatment for tarmacadam. UV resistant black pigment technology makes this a long lasting solution to refresh and restore your tarmac driveway making it look like new again.
High performance product by both the trade on high traffic areas and also by general public on domestic driveways.
Where to use
Use externally and only suitable and specifically designed for tarmacadam.
Free shipping on all orders over €75.
Before & After Images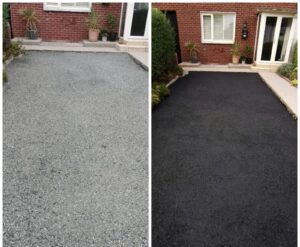 Additional information
Size
Application and Time

Application is always two coats using a normal paint roller. Apply first coat North to South and second coat East to West for a streak free natural finish.
First coat should be touch dry normally within an hour after application, before you apply the second coat and allow 24hrs to fully cure before allowing heavy traffic back on your tarmacadam.

Equipment

Normal 9 inch paint roller and tray.
Short ply roller sleeve to apply and fluffy roller sleeve to remove any surface pooling or residue if required.

Coverage Rate

Depending on the quality of your tarmac, standard 4sqm per litre which includes both coats so 5L = 20sqm.

Cautions

Colour pigment included so ensure it does not get onto any other material besides the intended tarmacadam.

MSDS Data Sheets

https://mail.google.com/mail/u/0?ui=2&ik=00d44e945d&attid=0.35&permmsgid=msg-f:1728824818217038814&th=17fe050330b4b3de&view=att&disp=inline&realattid=17fe04f7f34df25f01824
Can I apply this onto my paving or roor tiles to enhance the colour? No this is only for external tarmacadam. We have specific products for treating roofs and paving.
How long will this treatment last? This is a commercial grade solution so is designed to last 5 years plus on high traffic areas.
What product do I need to use for ongoing maintenance? Our Stontex Green to Clean is the ideal safe spray-on and walk away solution to keep your tarmac free from moss, algae and lichen stains.
If I have more questions, is there free help available? Yes, just fill in the link below and one of our Stone Doctors will get back to you as soon as possible: Ask the Doctor