STONTEX PLATINUM STONE SEALER
From: €43.00
Overview
Platinum Stone Sealer protects porous surfaces against oil and water based stains. It is a high active ingredient water based impregnating sealer for natural stone. Very popular with the trade as a pre treat protection on porous material prior to grouting / jointing to stop common staining while laying the paving / tiles. Keeps a natural feel matt look finish to the treated surface.

Where to Use
Used mainly internally on natural stone, tiles and brick. The main reason is because its low odour formula, however it can also be used externally.
Free shipping on all orders over €75
Before & After Images
Surfaces have to be cleaned first with All In One Cleaner and then sealed.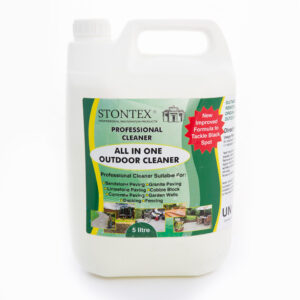 Why is it necessary to seal your material? You do not have to seal your stone, concrete or tiles but using the correct sealer will enhance the look. Keep the material looking good for longer as it will slow down the weathering process. It will also make ongoing maintenance much easier.
Why are there so many different sealers on your website? We have different sealers for natural stone, concrete and tiles and also range of high performance more expensive treatments used on commercial high traffic areas and for protecting historical buildings.
What should i use as ongoing maintenance cleaner after I seal my material? No matter what your material is if its external use Stontex Green to Clean and if its internal use Stontex Multi Clean.
If I have more questions, is there free help available? Yes, just fill in the link below and one of our Stone Doctors will get back to you as soon as possible: Ask the Doctor